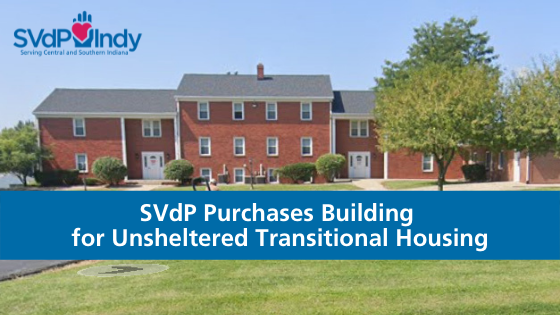 Imagine if you didn't have a home, a house, or any shelter. Imagine having to find places to get out of the weather. Imagine having to find food—every day. In Indianapolis, nearly 2,000* people who currently live on the street don't have to imagine. It is their reality. Many have been chronically unhoused, while others have recently lost their homes to eviction or other uncontrollable life events.
The worsening state of homelessness has compelled the SVdP Indy Council to ask, "What more can we do?" While we have several initiatives aimed at supporting our unsheltered neighbors, we know there is more we can do. While the services we offer are important, we want to extend services and give those who are ready and capable an option where they can build a foundation for a new start.
For some time now, the board of the SVdP Indy Council has been praying about and planning for what we believe is the answer to that question: a residential transitional housing facility with 24/7 support for those experiencing homelessness. Earlier this month, we inched closer to turning that vision into reality as we signed a purchase agreement with the Archdiocese of Indianapolis.
Key facts about SVdP Indy's transitional housing facility:
Location: The building, located at 2500 Churchman Ave, Indianapolis, currently houses the St. Elizabeth Coleman Pregnancy & Adoption Services. Constructed in the 1970s, the building has 13 private residential rooms, a commercial kitchen, a training center and staff offices. It sits on about seven acres of land in southeast Indy.
Future residents: The facility will initially house male residents, as an overwhelming number of unsheltered individuals are male.
Length of stay: On average, we expect residents to stay at the facility for 8-9 months as they learn/relearn life skills and find employment and longer-term housing.
Programming: Residents will participate in our Changing Lives Forever (CLF) program as well as other classes to help develop life skills. We'll also partner with the State's IMPACT (Indiana Manpower Placement and Comprehensive Training) program as well as the John H. Boner Community Center to develop jobs skills training.
Social services: Residents will also be connected with various community and state social services as needed.
The Archdiocesan Pregnancy & Adoption Services, currently located at the St. Elizabeth Coleman Center, will remain there with normal operations.
"We see those living in homelessness daily—about 200-250 come to us weekly for a warm meal and other basic, yet fundamental needs. In recent years, we've begun programming that helps those who are capable to take steps toward self-sufficiency," says Paul Ainslie, President of SVdP Indy Council. "But there are still gaps. A residential program like this has been needed in Indy for some time now. This is a start in the right direction—and it's really the next evolution of where we've been heading with our homeless and Changing Lives Forever programs."
Part of SVdP International's Effort
SVdP Indy is not the first SVdP council to provide transitional housing. This concept dates back to our earliest days—when King Louis XIII of France died in 1643, he left St. Vincent de Paul the equivalent of $1M to support Vincent's charitable works. Vincent used the money to build 13 small houses for those without homes. In commemoration of this work, SVdP International has started a "13 House Campaign" across the global Society to address homelessness. Nearby, the Louisville and Dayton SVdP Councils have fully engaged in this work.
Snapshot of SVdP's Indy's Homeless Programs
While our desire is for each person to become self-sufficient, we know each human's journey is unique. So, we focus simply on meeting each of our unsheltered neighbors wherever they are on their individual journey. We offer a continuum of services so that no matter where someone is on the path, we can surround them with love and support.
Beggars for the Poor: Every Saturday morning, volunteers go to Roberts Park in downtown Indy to meet our unsheltered neighbors, handing out a warm meal, clothing and hygiene supplies.
The Vincentian Room & Bike Ministry: On Wednesdays and Saturdays, unsheltered neighbors visit the Distribution Center for our "The Vincentian Room" ministry. In addition to a warm meal and a small lunch sack of food to go, visitors receive supplies they need: shoes, coats, blankets, etc. More help is offered if they want—like getting an ID, enrolling in SNAP benefits, finding shelter or help finding a job. A bike ministry is also part of our efforts. Donated and gently used bikes are provided to our unsheltered neighbors, offering them a mode of transportation—often a necessary step to find employment or seek medical care, for example.
Changing Lives Forever: This 18-week program guides participants through an investigative process to better understand their individual strengths and weaknesses, available community resources and how to make a plan for a better future. There are CLF groups specifically for our unsheltered neighbors.
PHOTO CREDIT: Google Maps