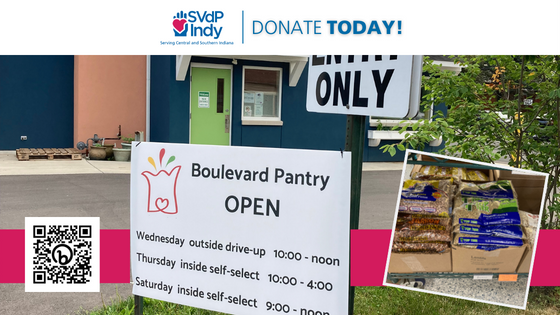 July marks a big change at the Boulevard Place Food Pantry with the addition of three in-person shopping hours to improve the client experience and also be workable for volunteers.
Saturday is now 9 a.m. to noon, open one additional hour.
Thursday is now 10 a.m. to 4 p.m., open two additional hours.
Wednesday operating hours remain 10 a.m. to noon, same as before.
These are still pre-packaged to-go bags meant for drive-through clients only.
 "The goal is that the Thursday 6-hour window will help to spread out the client visits," says Cindy Brown, co-director of the pantry. "The client demand has been steadily increasing all year—mainly due to economic factors—and with so many in our community struggling, we thought why not alleviate some of that stress."
 The number of client households served in June was 1,463, which is 70% more than in June 2021. The monthly average of 1,212 households served is up 25% from an average of 967 for all of 2021 and is higher than any of the previous seven years. The monthly average of individual clients served is 4,080, up 30% from 2021.
 "Fortunately, we are able to offer a lot of food options to clients that you might not expect in a pantry, while still meeting our goal to be nutritious and fresh minded," says Brown. "Our volunteers like Pam Budny also take pride in replenishing our shelves with wholesome appetizing choices."
 An example is in the beans! We listened to shoppers about how they prefer their beans. We do provide canned beans, but we stock a variety of dried (lentils and great northern) in bags in alignment to their preference, Budny says. Additionally, there are specialty goods that one might normally find only in a Mexican or Asian grocery.
 Brown and co-director Matt Hayes thanked all the financial donors for being relentless in their support. The money—from tithing to individual gifts—gives the Pantry bulk buying power. Walk-in donations of food and hygiene products are also welcome.
 "We are meeting the challenge," says Brown.
Interested in supporting Boulevard Place Food Pantry? We make it easy! Simply scan the QR code below to make an online donation.