At the beginning of July, we broke ground at the St. Vincent de Paul Boulevard Place Food Pantry. We are adding a 1,500-square-foot expansion and making several necessary renovations (sewer, electrical, roof, etc.) to the building. As one of the larger client-choice food pantries in Indianapolis, the Boulevard Place Food Pantry plays a critical role in addressing food insecurity on the northside of Indianapolis.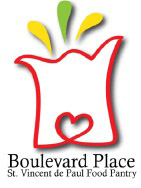 The expansion will allow us to better meet growing needs. For starters, the current waiting room with nine seating spaces is no longer even remotely large enough. We usually allow no more than four shoppers at a time due to limited space and checkout stations. This, in turn, creates long wait times. Once renovations are complete, there will be 25 seats in the waiting area, an increased shopping area and larger storage areas. Additionally, we'll move the walk-in freezer and refrigeration units to the new space and floors will be leveled to allow ease of movement of pallets with a pallet jack.
Cindy Brown, who serves as the pantry's operations manager and facilities coordinator, says the renovation will make us more efficient because we'll be able to control more how the space is used. Right now, we are limited by the design that we inherited when we purchased the building eight years ago.
Growing Needs
There's a growing need for the pantry to be able to serve the local community, especially since the onset of COVID-19. We saw an estimated 30 percent increase in "out-of-boundary" shoppers during the COVID-19 crisis—that is, people living outside of the neighborhoods typically serviced by the pantry.
But increased community needs had been stretching us for some time. In 2018, we distributed 387,000 pounds of food, and 489,000 pounds in 2019. We were already stretching the food storage space to the limits, and these past few months have seen us busting at the seams.
Stop Gap
We were so honored to have Indianapolis Mayor Joe Hogsett attend the groundbreaking and acknowledge the important role of organizations like ours. "We must continue doing everything we can to make food insecurity and food deserts a thing of the past in Indianapolis," he said. "Until then, our city is fortunate to have stop-gap resources like this food pantry and the community that supports it.
Future Plans
In addition to helping provide for our clients' food needs, we hope to eventually offer food demonstrations and cooking classes where clients can learn new and healthy ways to prepare meals.
Thanks to our Donors
Thank you seems insufficient but we are extremely grateful for the generosity of our donors. The remodeling and expansion is being funded privately by Marian, Inc, Roberta and Bill Witchger, and several parishioners of Christ the King, Immaculate Heart of Mary, St. Joan of Arc, St. Luke the Evangelist and St. Thomas Aquinas catholic churches.
Follow the Renovation
If you're interested in seeing the renovation as it progresses, follow Boulevard Place's Facebook page. If you missed the press conference and would like to see it, you can view it here:  https://tinyurl.com/yxgy6try (Thanks to Conference President Bob White for pulling the video together and sharing it with us). Additionally, the pantry will remain open during renovation and is always in need of volunteers. If you'd like to serve at the pantry, contact Cindy Brown at cbrown@svdpindy.org.
To Contribute to the Effort
Visit  www.svdpindy.org/blvd to make an online donation to support Boulevard Place St. Vincent de Paul Food Pantry.
Editor's note: Thanks to the Boulevard Place volunteers (Bob White and Tom Spaulding) for their vision and preparation to support this effort and in coordinating the media. The photos and assets supplied were a huge help in allowing us to share this story.